Fresh cut flowers are permitted at all times and temporary vases are available at the main entrance and at each mausoleum. Glass vases or containers are not permitted for safety reasons. Please do not bring artificial flowers, toys, balloons or other manufactured items because they hinder maintenance, damage polished surfaces of crypts and niches, and add drastically to our disposal costs. When found, they will be removed. Wilted flowers are removed by our staff as part of our maintenance procedure. All decorations are left for one week following the holidays of Easter, Mother's Day, Father's Day, Memorial Day, Labor Day and Fourth of July. Flags are permitted the week of Memorial Day. They are available at the office and are provided by the County Freeholders.
Christmas sprays and blankets may be placed on graves but not until the week of Thanksgiving. If placed before Thanksgiving week items may be removed in order to complete final grass cuttings and leaf removal throughout the park. We also recommend that you tag your spray or blanket with name and location.
Wreaths for crypts must be double-faced with real greens and the ring cannot be larger than 16″. Wreaths can be delivered the Monday following Thanksgiving to the office where it will be tagged properly and hung by our staff. A square wreath must also have real greens on both sides and the size may be no larger than 29″ high and 35″ wide. A wreath which does not meet these requirements will encroach on another crypt front and will be removed immediately. Any wreath which has artificial greens, a wire or wood backing will be rejected because it will damage the front of the crypt.
As a convenience, you can purchase blankets and wreaths directly from our office to be placed by our staff. Please contact us to receive information for the holiday season. Holiday decoration forms are usually mailed out in September.
Park Hours: The park is open every day from 8:00 a.m until dusk.

Office Hours: The office is open Monday through Friday from 9:00 a.m. to 4:00 p.m. and Saturday from 9:00 a.m. to 3:00 p.m. Effective April 2020 we will no longer be open on Sundays, including holidays.

The office is closed on the following holidays: New Year's Day, Fourth of July, Labor Day, Thanksgiving Day and Christmas Day.

Restrooms are located at three different locations throughout the park: the main entrance gate, the All Faith's Mausoleum and the tower. Handicapped restroom access is available at all except the tower. There is handicap access for visiting in the tower, mausoleums and office.

Trash bins are located for easy access and use throughout the park.
Burial activity occurring near your property may cause some ground disturbance, which will be repaired as soon as possible. Please be patient and understanding if this occurs. Our maintenance crew will service the area as soon as possible. Report any problems to the office.
Please drive slowly, park closely to curbs to permit traffic movement, lock your car and take your keys. Funerals may temporarily block roadways, please be patient and understanding.
Our office staff will provide you with a map and directions for the grave, crypt or niche location you are looking for. Proper spelling of the name is essential. Also please keep in mind that during the winter the park may be snow covered, making it extremely difficult to locate a burial site.
Our benefactors fund was established through member generosity to enable members and friends of the Association to make donations and bequests for the further beautification of George Washington Memorial Park. The proceeds from the fund have enabled us to purchase quality works of art that not only add to the beauty of the park but have also created a spirit of cooperation for all who visit, knowing that they have contributed to making it possible. You can make gifts in your name or in the name or memory of others. Gifts of any size are gratefully received. All are tax deductible and are acknowledged by letter to the donor. Kindly consider being a benefactor.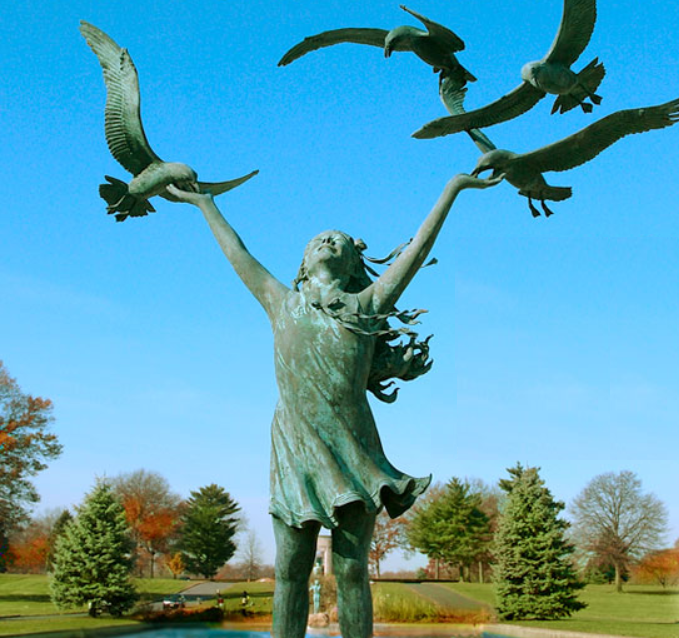 Your Cooperation and Understanding Will Be Appreciated
While nature assists greatly in keeping our park beautiful it also causes difficulties against which we must struggle daily. Rain, wind, snow, droughts, geese and the soil itself make it necessary for us to give constant attention to all areas of the park. Should any problem arise on your property, please report the problem to the office. We cannot prevent any problems of nature, but as promptly as nature and our work load allow, we will take care of these problems or any other reasonable requests.